Learn Options Trading
Home Page: Hi, and a very warm welcome to my site which I hope will teach
you everything you need to know about how to start trading options online, whether these be options, equity options, or EFT's ( exchange traded funds). As you may know I am a full time trader myself, and I know from personal experience how difficult it can be, to find informative and helpful sites online when you are starting out - hopefully this one will help!
I do have several others on various aspects of trading, all free, so if you would like to have a look at these please click on the Making Bread Home Page above ( or here ), and it will take you there. Again all the information and advice is provided free. I also write daily market forecasts and analysis on my personal site covering all the markets, so please just click on the link here - Anna Coulling
Finally, I now run FREE live training rooms to help traders get started on their own trading journey. So if you would like further details please just click the link above.
As always, I have tried to explain everything about options clearly and simply, but if you do have any trading questions then please just click the button above and ask! I love to hear from people from around the world, and if I can help you a little I would be delighted. Again, this is free as I feel there are enough people out there trying to make money from novice traders !
This is the book I have been meaning to write for many years. Finally, I have found the time to do just that!

Now a No 1 Best Seller: International Foreign Exchange
Volume has been the cornerstone on which my own trading career has been built. It was where I started, and I consider myself fortunate to have done so. Why? Because volume and price are the ONLY leading indicators of future market activity. Many traders never discover their awesome power until it's too late, relying on lagging indicators, which.........lag the market. Now finally it's here. In the book you will discover the unique approach that is VPA, or Volume Price Analysis. Price on it's own is just that - a price. Volume on it's own is just that - volume. But combine them together, and just like adding saltpetre, charcoal and sulphur, they become an explosive mixture. Your charts will quite literally EXPLODE into life. Suddenly you will have the insight to read the next market move, before it happens. Now, with VPA your trading will become stress free and enjoyable. Why? Because your trading decisions will be based on logic and common sense. The insiders simply CANNOT hide market activity from view. All you need to do is interpret the volume price relationship - then simply follow them. AND YES - even in the spot forex market!!
Here are some of the wonderful comments I have received on emails from customers who have bought the book - thank you so much - Anna
Dear Anna, I want to thank you so much for providing retail traders with a wonderfully written, fun to read, and very smart book ! I just finished your "A Complete Guide to Volume Price Analysis" and found it thoroughly enjoyable, and very, very informative. I had been introduced to some of these concepts before ( "volume spread analysis") but have to tell you that your style and approach is a lot easier to comprehend, and a lot easier to actually put into practice.  JK
Dear Ms Coulling, I found your book on Amazon by chance, after having typed in Trading using Volume Price Analysis. Got the book this week, and I am already half way through it. Your exposition of the volume behaviour in the market and how different price bars relate to volume is fantastic. It truly is an eye opener. I have been interested in the Wyckoff approach for a while, but have not found something as clear as your book. Thanks for writing such a great book. SG
And now for another......
If you are new to the world of forex trading, then the following book may be for you. I remember what it was like when I first started and it can be a confusing and complex market to interpret.
In the book I explain the forces that drive the markets, and the broad approaches to analyzing market behavior. I hope it will provide the background knowledge to help you become a better trader, as you enter the world of forex trading.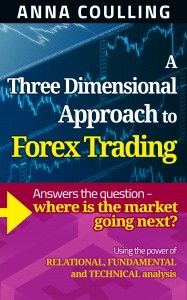 Success for many traders remains an elusive dream, and whilst the trading process itself is relatively simple and straightforward, the markets themselves are most certainly not. Indeed of the four principle markets, forex is the most complex of all, and yet is promoted as one that could be your own personal ATM machine. Nothing could be further from the truth, which is why many aspiring traders ultimately fail and either give up, or move on. This is a great shame, as it's not their fault, and is simply because no-one has ever explained how the markets, and in particular, the forex markets, really work.
If this sounds familiar, then this book is for you.
The forex market is far from simple, and the tools and techniques you will need to survive and prosper are varied. Many budding traders approach the world of foreign exchange in a one dimensional way, either in adopting one single analytical technique, or by assuming that this market works in isolation to all others. Both are equally dangerous. The forex market sits at the heart of the financial world. After all, every decision by every speculator, trader or investor is about one thing, and one thing only - money. The FX market embraces every aspect of risk and return in financial terms, which is then overlain with the political and central bank manipulation, all part and parcel of this world. To succeed as a forex trader, you need to equip yourself with the tools, the knowledge and the techniques to take on the immense forces ranged against you. Approach the forex market with a pea shooter and you will simply become another casualty. Arm yourself with this book, and you will then enter the forex trading world, fully mobilised with the appropriate weapons, of which knowledge and insight are the most powerful.
And don't forget as the late great Jesse Livermore once said:
"It [the market] is designed to fool most of the people, most of the time
"
Coming soon - on Amazon Kindle, and in paperback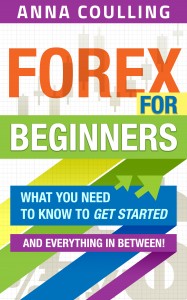 Forex For Beginners is a step by step guide to help you get started in the exciting world of forex trading. The book leads you by the hand, from explanations of how and why we have a forex market, how it works, and the mechanics of placing trades. The various analytical approaches are explained in detail, along with understanding the importance of volume and price. From there, the book moves on to explain the concepts of margin and leverage, trading plans, quantifying risk money management, and position sizing. Then, it's putting it all together, as we walk through complete trades together, from start to finish, with several worked examples. Finally, the book explains key elements of the MT4 platform, and how to place and manage trades. Throughout the book there are hundreds of images and pictures, with simple explanations, to help explain everything clearly, so you will learn fast - and nothing has been left out. If you want the complete book, from novice to placing your first trade, and everything in between, then this is the book for you! The book will be published in the next couple of weeks at a very special promotional price, so please grab your copy FAST. As always - thank you all so much for your kind comments and feedback on my other books. I cannot tell you how touched I have been, and I hope that you enjoy this book, as much as the other two. As soon as it's available, I will add the link here. All best wishes many thanks - Anna
If you would like to follow some of my trades, I do post regularly on Twitter which is often called a "micro blogging" service. For those of you who are not familiar with it, it is simply a quick way to stay in touch with friends, family and news. You only link to people who are of interest to you, and the longest message is limited to 140 characters, so messages are short and sweet! It is ideal for me as I can update very quickly from my screen with details of possible trades, opportunities, news and also details of when my other sites have had new posts added, so you are always in touch. If you would like to follow me, and you already have a Twitter account, please just click on the "follow me on twitter" link above, or alternatively open an account with Twitter and then follow me. In addition I am also on Facebook, and MySpace, and would be delighted to hear from you there. I will shortly be opening a trading room on FriendFeed which will be available for you to meet other traders and investors and to discuss trading ideas, problems and strategies, along with access to my own trading suggestions. So there is a great deal going on at the moment, and please don't forget, you can always ask me a question at the new 'Ask Anna' site, or simply review trading questions asked by others so I hope you enjoy this new site.
I am in the process of updating all my sites which will include daily posts and videos by me, about future market directions, suggested trades, and opportunities for future trades. In addition when a site has been updated with a new post or video then these details will also appear immediately, which I hope you will find useful, and I look forward to welcoming you via one of the above.
Online Option Trading : Introduction
OK, let's start with some basics. One of the great misconceptions of trading options is that they high risk. Whilst it is true that certain strategies have a very high risk element, in many cases it is possible to trade them using a low risk strategy. Indeed, options were originally introduced as a hedging tool, an insurance policy if you like, where traders bought an option in order to hedge against another position, in case the trade moved the opposite way. Originally introduced in the US in the late 60's, online trading in options has grown dramatically, and with the advent of the internet, they have moved from the preserve of the institutions and money managers, to the online retail trader and investor. The options market in the US ( the largest in the world ) trades over 4.5 million contracts daily, and rising. Clearly options trading is fast becoming an extremely popular instrument to trade, and whilst there are risks, all the techniques and strategies I teach are designed to be low risk. As I said earlier options were originally introduced so that other trades could be hedged or protected, and whilst they can be traded in their own right, they are often used in conjunction with other instruments, such as stocks, to provide low risk trading opportunities.
Now, before we move on, a little about the regulatory bodies which govern the financial industries. In the USA the financial markets are regulated the SEC, the Securities and Exchange Commission, and their mission statement is to protect retail investors and traders to ensure an orderly trading market. The site is well worth a visit as it contains a host of useful information, but if only go there once, please check the credit worthiness of your online broker. Brokers, can and do go bust, so please check them first on the SEC site. In the UK it is the FSA ( the Financial Services Authority). Most countries will have a regulatory authority, so please visit their site online which will generally provide some very useful information.
Online Option Trading : Option Types
Options first appeared in the early 19th Century in America, and were know then as privileges. These privileges or contracts were actually written by hand, a term which has applied ever since. The hand written contract was then sold by the writer to the buyer. So for 'writing' read 'seller'. It was not until the late 1960's and early 1970's that options began to be traded more widely, largely due to the standardization following the establishment of an intermediary known as the Options Clearing Corporation or OCC. IN 1973 the CBOE ( Chicago Board of Exchange ) took control of options trading and since then several other exchanges in the USA have introduced options trading. In the UK options are controlled on the LIFFE London International Finance and Futures Option Exchange, which was taken over by Euronext in 2002. Early in 2007 Euronext merged with the New York Stock Exchange. All options are now traded electronically online. Before we begin to look at what an option is, and all the terminology of options trading, it is important that you understand the different types available. Most new traders start with equity options, which will be the basis of the next few pages, but there are several others which are as follows :
| | |
| --- | --- |
| Option Type | Option Description |
| Equity Options | An option where the underlying asset is a stock or share |
| Index Options | An option where the underlying asset is a basket of stocks reflecting a particular market sector i.e. Amex Oil Index Option ( XOI) will track market performance in the oil sector, Amex Airline Index Option (XAL), will track performance in the airline sector etc. |
| ETF Options | ETF ( Exchange Traded Fund) option where the underlying asset is generally a broad basket of stocks, US Treasury and corporate bonds, or commodities. ETF's can offer lower tax benefits. |
| OTC Options | OTC ( Over The Counter ) option contracts are between two private parties and are not listed on an exchange or available for trading online. |
| Employee Stock Options | Issued by companies to it's employees as a job 'perk' or as part of a director's package of remuneration. |
| Forex Options | Options to buy or sell currency at fixed rates |
Now, as you can see there are several different types of option available to trade, and for the remainder of this site we will concentrate on the first of the these, the equity option, but don't worry - all the information I provide is relevant to all options, whichever you decide to trade online, as the underlying principles are the same, whether you are trading equity options, EFT's or Index options. So let's look at what an option is and how it works
Online Option Trading - Next Page